We want to build a Tiny House that is just right for you.
We have several base models, and these can be customized with different materials and design options.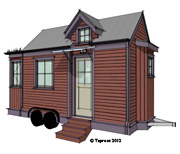 The Kingfisher
This is a complete home on wheels. It is 8' x 18' and includes a well insulated and air-sealed shell, constructed on a steel frame. The interior is paneled, includes basic utilities, and is ready to receive flooring, cabinets and appliances. The base price is $46,000.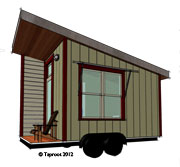 The Kinglet
The Kinglet is ideal for a studio or office. It is 8' x 15' and on wheels. The shell is completed with insulation, air sealing, exterior siding and interior paneling. It includes a basic electrical system, but no plumbing. Base price is $35,000.
Modular Tiny House or Studio
These are designed to be placed on a foundation. We build it at our shop with the same high quality craftsmanship and attention to detail, and deliver it to your site. The on-site installation can be by us or by your local contractor. This approach is ideal when a building permit is required. The foundation system we specifiy costs around $2,500. Other permit related costs could range from $2,000 – $4,000.
We want to build just what's right for you. Options include
Architectural Revisions: Change in plan, loft, dormer(s)
Windows: Fiberglass or wood with metal cladding
Utilities: 12-volt electrical system, solar. Space heating, ventilation, water heating, septic
Storage Options: Can include various shelves and cabinets for additional storage
Sleeping options: Pull-out futon frames, built-in pull-out bed with storage
Finishes: Flooring materials, siding
Kitchen Cabinets: can range from good quality to custom designed and built
Bath Facilities: Toilet, shower, sink
Appliances: Cooktop, refrigerator, toaster oven/microwave, others

Builder: JADE Craftsman Builders
Designer: Taproot Architects